American Cable Electronic Services
Products Page

American Cable Electronic Services specializes in the design and manufacture of Passive Combining Network systems, Filter Mounting systems and Patch Panels. These include 8-way, 4-way, 2-way and directional couplers. The passive devices are mounted into a Uniplate module that holds two 8-ways or four 4-ways, 2-ways or DCs or any combination. These combinations can include one 8-way and two of the others. The modules mount into an MF-4RU frame, which holds five of the modules. All of the passives are fully tested prior to installation into a module. The filter system also holds five modules. Each module holds six filters to be installed in a single MF-4RU frame. The patch panel product has up to 16-DBL BNC jacks and a designation strip. We also fabricate custom patch panels.
American Cable Electronic Services has thousands of combining frames in head ends, OTNs, and hubs throughout the country.
We can build combining networks using your specifications or we can help you design one. Turnkey services can be provided upon request. Our jumper cables, which we provide for the combining system or patch panels, are manufactured from CommScope HEC2 copper braid coax and snap and seal type "F" connectors. We also fabricate custom cable assemblies.
American Cable Electronic Services can also supply the rack mounting system for the frames and filters. Rack products can be:
A) Stand alone or Gangable rack enclosures, ideal for large cable bundles.
B) Narrow design for large multi-bay jobs with vertical and horizontal lacing bars.
C) Wall mounting rack system.
D) Equipment holding racks.
E) Vented tops, side rails, doors of Metal, Mesh, or Plexiglas.
F) Cooling fans and many more accessories are available.
Products
Combining Frames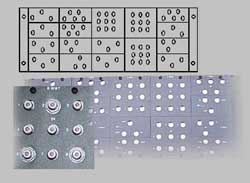 Typical Frame
CALL FOR PRICING
Passive Devices


8 way splitter with uniplate
4 way splitter with uniplate
2 way splitter with uniplate
DC - with uniplate
All passive devices are fully tested and installed in the below mounting system.
MF-4 4RU Rack unit frame holds 5 uniplate modules.
Filter Products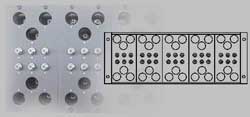 The filter assembly is designed for off the shelf tubular notch and bandpass filters for status monitoring or any other frequency. The filters can be tested and installed by ACES or by the end user.
The filter mounting Systems
PCN-B holds 6 filter modules and can be mounted in the MF-4 4RU Rack unit frame which holds 5 PCN_B modules.
All filters can be fully tested and installed in the
PCN_B frame.


Patch Panel


PP-D 1-RU Patch Panel with 16 DBL BNC FM jacks & terminators.
PP-F 1-RU Patch Panel with BNC connectors.
Patch Panels - can be manufactured with one to 16 DBL FM jacks. Custom patch panels also available. Call for pricing.
Power Strips - rack mountable with standard or twist-lock plugs. Dual circuit power strips are also available.
Racks
Model #

Description

MRK-4431-AVC

Multi Bay 44 space rack

MV RR 44

Additional set Rack Rail

MRK RD-AVC

Rear door

MRK RD-AVC

Rear ( when ordered separately)

MW VT

Vented top

MRK-4431-AVC-Z

Multi Bay 44 space rack with front & rear Z rail Z rail is designed to mount Nexus VM 2000 Modulators

MV RR 44

Additional set of Z rack rail.(installed)

MRK RD-ACV

Rear door

Call for Special Quantity Discounts

Just a sample of our complete and extensive cabinet line
Turn Key Systems
Complete forward and reverse combing networks can be rack mounted, wired and tested with full documentation. Quotes will be provided based on number of nodes and your requirements. Fax or Email us your requirements.
Custom Built
We can custom design a rack or other frame product for you. Please submit your needs, drawings and/or specifications to us and we will work up a custom solution. You can send us your information via fax at 1-203-362-1188, email us at Info@americancatv.comor call us at 203-362-2237